Grey Area: While the City Sleeps – Buy Physical (Sold Out) or Digital
Grey Area: The Old Straight Track – Buy Physical or Digital
Printed in A4 size, and features 28 black and white pages with a lovely Cairn Board cover
Titled 'While The City Sleeps', Tim's first full length comic is a paean to London and the culmination of an obsession that started when he moved to Golders Green in 2005.
"I took the tube to places across town. Places with familiar names, unusual names, places where friends lived, places where there were good comic book shops, or second hand record shops. Tottenham Court Road, Mudchute, Kilburn, Camden Town, Finchley. I wore comfortable shoes and carried my camera everywhere. I photographed graffiti, bus stops, abandoned supermarket trolleys, tower blocks, barbed wire and construction sites. I would walk along the Regent's Canal from the Thames up to Little Italy, or along the Lea Valley from Tottenham Marshes out past the M25 into Essex – Waltham Abbey where shops close on Sundays."
It features three vignettes exploring the metropolis at night. Anyone familiar with Tim's work will recognise the poetic yet documentary eye and the confident lines that have garnered comparisons with the likes of Daniel Clowes, Seth and Craig Thompson, as we take a tour above ground and below, through the then and now, and across the spectrum of stark anonymity and hazy society that coexist in our cities while some of us slumber.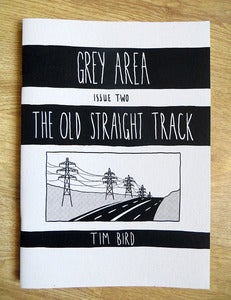 "Much has been written of travel, far less of the road." – Edward Thomas, The Icknield Way
Titled 'The Old Straight Track', Grey Area Issue 2 is a tribute to the Great British Motorway System. A narrative created by constantly moving across tarmac. A biography on roads. A spiritual journey through the sacred service stations of the country. A meditation of traffic jams.
Following on from the best-selling Grey Area Issue 1 (although unrelated narratively), Tim's second issue further establishes a unique voice and vision in British comics, as he explores the mysterious connection between electricity pylons and standing stones. Lines painted on roads. Roads drawn on maps.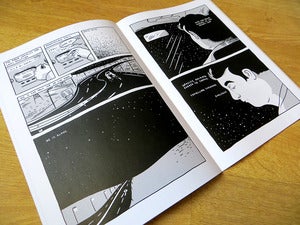 REVIEWS
"Yes, this is a beautiful work, lyricism and poetry overlap, ideas come forth, a gentle romance of the road, of the ancient and the modern, biographical in its way, both of the landscape, the motorways criss-crossing them and of the people living their lives on the road. Potential achieved, Bird getting better and better and better, his execution meeting his ambition here."
Richard Bruton, Forbidden Planet Blog
"Another piece of beautifully understated storytelling from writer/artist Tim Bird and one that fully deserves your considered attention and support."
Andy Oliver, Broken Frontier
"Tim has successfully captured the mood and environment of London through his melancholy use of words and images. It really is great."
Antony Esmond, Beard Rock
"This is a lovely, poetic comic"
Rob Clough, High-Low